<![if !vml]>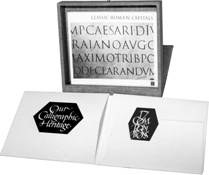 <![endif]>                    <![if !vml]>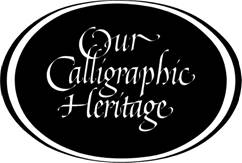 <![endif]>
<![if !vml]>
<![endif]>
Our Calligraphic Heritage,
by Ismar David. Published by the Geyer Studio, 1980, in an edition of 2500.
Stored for over twenty three years, this limited edition is again being offered for sale.
Each individual copy is signed and numbered by the author.
THIS WILL BE THE FINAL OPPORTUNITY TO OWN THIS UNIQUE WORK.
There will be no more copies available after this sale period.
See images of the Calligraphy Samples in the book.

See examples of the Calligraphy Tutorials.
Download an Acrobat PDF Document about this book.
      Printed writing books have been issued since the 16th Century. They were created to share the author's experience with those who were interested in the art of writing, or were eager to acquire skill and knowledge in this field.  This writing book is no exception. Its chart and style examples were developed during two decades for those who trained and worked in the famous Geyer Studio of New York City, and as a teaching material for art school classes.
OUR CALLIGRAPHIC HERITAGE consists of three carefully integrated units.
        The first is the Writing Book, containing concise text accompanied by illustrations and charts which deal with historical, esthetic and technical aspects of calligraphy.
        The second unit is a set of 17 folders which present reproductions of selected examples of major historic styles. Each is complemented by at least one, but in most instances, two or three complete alphabets rendered by the author/artist, and amplified by explanatory text. Individual letters have been substantially enlarged for easier study. The format in which the folders are offered has been designed to facilitate comparison of different styles on a convenient side-by-side basis. (See an example now.)
        The third unit is a collection of 17 compositions keyed to the styles shown in the folders. Each composition has been created to demonstrate how classic styles can be used as motifs for contemporary graphic and calligraphic purposes. (See these compositions now.)
        The entire work is set in 11pt Dante designed by the great printer/designer, Giovanni Mardersteig. The writing book is printed in two colors on Curtis Rag, one of the finest and most durable printing papers. The folders and compositions are printed on Curtis Rag cover stock, the former in two colors, the latter in up to four colors.
        The three units are housed in a solid wood framed box covered with heavy buckram. It has been specially designed to serve a dual purpose: as a handsome container to protect and preserve the valuable contents, and as a handy easel on which to display the folders while they are being used for study and practice.
        Meticulous attention has been devoted to every step in the production of this limited edition, which will appeal to bibliophiles as well as calligraphers. Each of the sets has been inspected, numbered, and signed by the author/artist. They may be ordered by phone:
Write to us at: och@calligraphyheritage.com
About the Author/Artist:
ISMAR DAVID is recognized as one of the authentic giants of calligraphy. His work as a designer of type, books, and architectural monuments, as well as his achievement as an illustrator and calligrapher, have placed him among the handful of graphic artists with a truly international reputation.
Ismar David, a teacher all his life, made this his most significant instructional work. He died in 1997. Only through special arrangements could this work again be made available.
See Calligraphy Samples from the book.
See examples of the historical styles presented.
WHAT EXPERTS SAY:
Hermann Zapf, Professor, Rochester Institute of Technology, renowned type designer, lecturer and author
"This publication by Ismar is more than a beautifully designed publication. A book in which each page shows the taste and the skill of a master in calligraphy, perfectly reproduced. Inspiring everybody who likes letterforms for it shows the soul of the forms beside the structure and basic elements"
Herb Lubalin, designer, international consultant, and lecturer
"It embodies that rare combination of superb craftsmanship and pertinent information. The Geyer Studio and Mr. David are to be congratulated on this beautifully conceived package. On viewing this work I regret that my lefthandedness inhibits the calligraphic creativity it inspires in me"
Paul Standard, Professor, Cooper Union, noted calligrapher and author
"OUR CALLIGRAPHIC HERITAGE is a book which presents that tangled heritage in terms and in figures of uniquely graceful clarity, and gives a full view of a landscape of letters to a world readership. It is a heritage of enormous scope, hitherto lying scattered in many hundreds of scholarly volumes available to specialists, but now taken in hand by a scholar-artist in love with the letters used in written and printed books. Undaunted by the task's complexity, Ismar David has solved his problem by discerning the threads of related families of letters, and has now presented them in words supported by graphic illustration in adjoining margins or on fullpage plates, enlightening to the reader and inspiring to the practitioner. In this clarifying task his partner is the Geyer Studio"
Donald Jackson, Visiting, Professor, University of Calif, Santa Cruz, and at Calif State University, L.A., Scribe to the British Crown Office
... the book which grew out of the collaboration between artist and professional studio is meticulously produced on excellent paper, section-sewn. Together with seventeen four-page folders and the same number of compositions it makes a practical working tool especially since the buckram covered box opens to provide a steady self-supportive easel for ease of reference to the plates... Mr. David traces some of the major writing fashions, reflecting about the 'swings of the cultural pendulum' which have influenced the evolution of the Roman alphabet in a manner which most people will find easy to understand. His observations on each of the alphabets show the kind of response to letter forms and their origins that calligraphers will immediately recognise as in sympathy with their own feelings.''
Biography of the Author:
ISMAR DAVID is one of the few graphic designers, illustrators and calligraphers of international reputation. He has taught at Cooper Union for 16 years and has lectured and conducted workshops to professional groups. His design and the illustrations of such limited editions as the "Psalms," one of AIGA's Fifty Books 1974, and Pascal's "Les Pensés" are admired for their uniqueness, graphic refinement and beauty. His architectural designs which include inscriptions stand out as examples of contemporary monuments. His present book in its rich texture reflects this wide experience.
View Samples of Calligraphy from the book.
See the historical styles presented as examples.